Portobello, Village, Black Marquina and Glaciar (Arklam Super Size collection) are the models that have been selected for the project by Clave Ceramic
The timeless elegance of marble combined in black and white and the durable beauty of grained gray are the central axis of a project developed by Clave Ceramic to renovate the toilets of Vins i més, a restaurant-wine cellar located in Gandia (Valencia). The firm, one of whose specialties focuses on the distribution of large-format and thin-gauge ceramic pieces, has opted for the 6 mm Arklam collection due to the multiple features of this range of sintered ceramics.   Specifically, to carry out this action, Clave Ceramic has chosen the Portobello and Village models, in Silk finish, and Black Marquina and Glaciar, in Polished finish (all in 1000×3000 format), which, applied both in coating and pavement , offer outstanding decorative possibilities.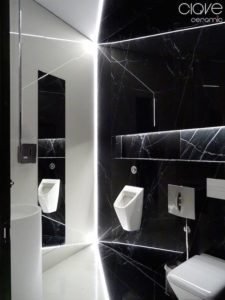 Along with the rest of the elements used in the decoration of these spaces, we have played with the shapes and tones to enhance the luminosity effect and increase the feeling of spaciousness and visual continuity. The result, from the contrast caused by the combination of white and black and by the personality of gray (gloss or matte) as an intermediate tone, stands out for its elegance, modernity and timelessness, since it is a mix that does not go out of style. In addition, it is a flexible combination, which can be applied in any environment, since it is a formula that never runs out and is one of the preferred by interior decorators.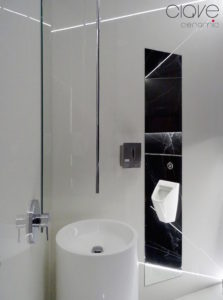 Arklam Super Size is the ceramic solution of thin thickness (6 mm) that stands out for its large format, for its high resistance and for its easy maintenance and cleaning. These qualities make it a perfect material for public spaces, although its use in all types of projects is limited only by the imagination.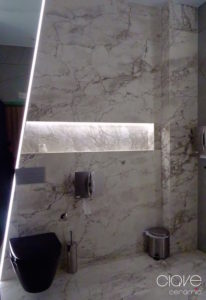 Discover here more models from the Arklam 6 mm collection.