This large-format solution, with outstanding properties in terms of strength and lightness, offers exceptional results both indoors and outdoors
Arklam Super Size, the Saniceramic Group's large format brand, is a perfect solution for all types of architecture, decoration and interior design projects due to its powerful versatility. This product range can be placed in interiors and exteriors with total guarantee and its applications go much further than the conventional covering of floors and walls.
The three formats that make up this collection (1000×3000 and 1500×2600, with 6 mm thickness, and 1500×3200, with 12 mm thickness) and a wide selection of finishes, tones and styles (stones, marbles, cements …) adapt to all kinds of surfaces and its lightness, high resistance and imposing aesthetics make it an especially suitable option for architects and interior designers when undertaking the most demanding and exclusive projects. In addition, there are other advantages to be taken into account, such as the possibility of being placed on existing surfaces, which results in time and cost savings, as well as minimising waste. In addition, the fact that it is a very light product facilitates the cutting and handling process and, as there are fewer joints, tile installation is also simplified. Therefore, Arklam Super Size contributes to make the execution process less complex.
Countertops
The 12 mm thick line of Arklam Super Size has exceptional characteristics as a kitchen countertop, as it is highly resistant to heat, cold and thermal shock, as well as to scratches, humidity and stains, in addition to being hygienic (it is a non-porous material) and easy to clean.

Bathrooms and kitchens
The application of Arklam's large format pieces reduces the number of joints to a minimum, an important performance in the case of bathrooms and kitchens, where it is essential to avoid leaks and humidity. Furthermore, in both bathrooms and kitchens it is essential to ensure the best conditions in terms of hygiene and salubrity, so the choice of a material such as Arklam's sintered mass is a complete guarantee.

Furniture
Arklam is a very suitable material for covering furniture (doors, tables, wardrobes, fireplaces…). In addition to providing resistance, the adaptability in the cut allows to obtain totally personalized finishes, with an integration effect very appreciated by interior designers and decorators and very much in line with current trends.

Facades
In addition to the good results it offers as flooring and wall cladding, this sintered mass solution provides numerous advantages when placed in ventilated facades. Due to their thin thickness, these large-format boards can cover buildings and even garage access doors, in perfect harmony with the rest of the elements and promoting visual continuity. A 'total look' effect highly valued in the most avant-garde projects.
The advantages of ventilated ceramic facades are numerous. They are waterproof, allow air circulation and improve solar protection and thermal and acoustic insulation. In addition, they are resistant to thermal shock, low temperatures, UV rays, wear, scratching, bending and chemicals. And all this without forgetting that they are environmentally friendly and easy to clean.
In this respect, it should be remembered that Arklam has its own installation system, called Arktech, with four types (Chemic, Staple, Plus and Plus Scaled), which adapt to the requirements of each project, facilitating installation and boosting time and cost savings. These systems combined with the Arklam cladding give the whole an important added value as an innovative construction solution, especially in terms of durability and energy efficiency.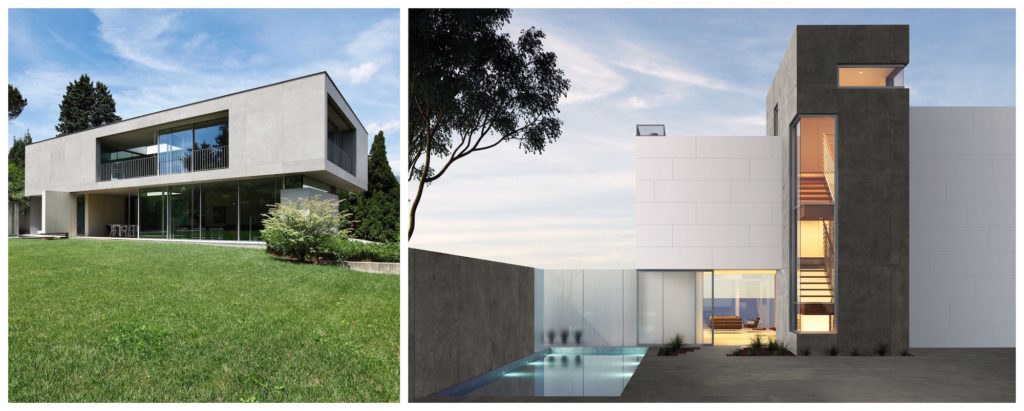 Hotels and public spaces
Projects in public spaces, such as hotels, shopping centres, sanitary installations, etc., require materials suitable for massive and continuous use, which will last over time without their performance or appearance being altered, always with an exclusive and differentiating character. In this sense, Arklam Super Size generates spectacular and comfortable spaces due to its large size and ductility.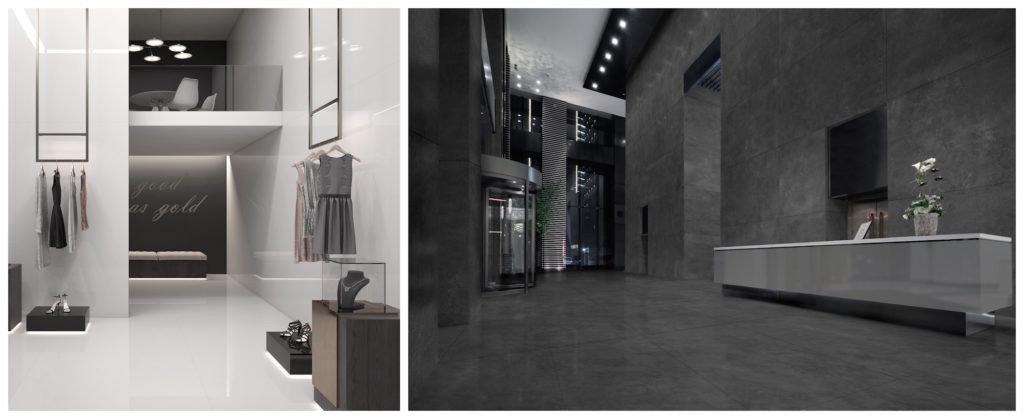 Read more about Arklam Super Size