The distributor promotes a program of training courses on porcelain laminates in various locations in Alicante
Arklam Super Size, Saniceramic Group's range of large ceramic format, has been the material selected by  Fajovi, distributor of reference in the Spanish ceramic sector, for the implementation of the courses of handling, transport and placement of porcelain laminates, included in the program of advanced architecture training, which will begin this Friday, June 1, in Mutxamel (Alicante).
The theoretical training will be complemented by demonstrations on how to cut, manipulate and install Arklam 6 mm pieces, in 1000×3000 and 1500×2600 formats. Thus, in addition to knowing the process to achieve a perfect finish, participants can discover in situ the characteristics of this imposing slim thickness collection, which includes models such as  Negro Marquina Polished or Atlantis Gold Silk, among others, and that during the practices will be the job material.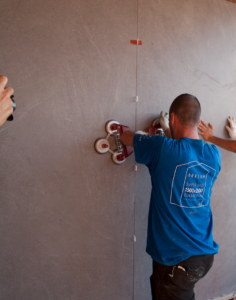 Large format placement requires qualified professionals.
Fajovi promotes these training activities with the aim of contributing to improve the professional qualification of the operators, aware of the importance of an optimal installation to make the benefits of the ceramic product profitable and obtain a completely satisfactory result. And, for this, the company, specialized in solutions for decoration and interior design, allied with Arklam for its high performance to dress all kinds of interior spaces, ventilated facades, rehabilitation projects, etc.
Enrollments for the first course of porcelain laminates are now complete, but those interested can still sign up through fopa@fopa.es to the editions to be held in La Nucia, on June 15 and 16, and in Orihuela, on 5 and on July 6. These activities are free and places are limited. For more information: 664 240 046.
This initiative, promoted by the Federation of Public Works of Alicante and taught by Fajovi's R&D team, is sponsored by the Provincial Council of Alicante.